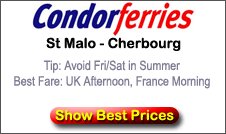 Ferry To France - Condor Ferries
Condor Ferries was founded in 1964 by Channel Islands' businessmen Peter Dorey and Jack Norman, to challenge the conventional services operating between the Channel Islands and France.

Condor's first investment was an Italian-built PT50 hydrofoil, Condor 1. Passengers were immediately very impressed by the speed of the new service, and passenger numbers soon grew from 10,000 in 1964 to over 60,000 in 1966.

Condor continued to invest in new fast ferry technology through the '60's and '70s, and in mid 1987 ran its first scheduled service between the Channel Islands and the UK, initially using Condor 7, and later a regular service using Condor 5 and Condor 7.

Then, in 1991 Condor introduced the revolutionary wave-piercing catamaran, Condor 9 on its UK to Channel Islands service. In 1993 it launched its first car-carrying wave- piercer - Condor 10, at a cost of £15 million. The new fast car ferry service was instantly popular, and revolutionised the UK to Channel Islands ferry service.

Since 1994 Condor has introduced new fast car ferries virtually every year, and now operates two of the world's most advanced - Condor Vitesse and Condor Express. Today, the total investment in the fast ferry fleet is well in excess of £60 million.

In Autumn 1999 Condor launched it's all-weather, all-year-round traditional car ferry service, to give its customers total reliability, and a back-up service when weather conditions prevent the fast ferries from sailing.

The Commodore Clipper operates from Portsmouth, and provides an excellent alternative to travellers who prefer a more leisurely crossing, and enjoy travelling overnight in a comfortable cabin.

Today Condor's modern fleet of ferries offer unrivalled comfort and high standards of service. We look forward to welcoming you aboard.